My KOFA Season 5 Tierlist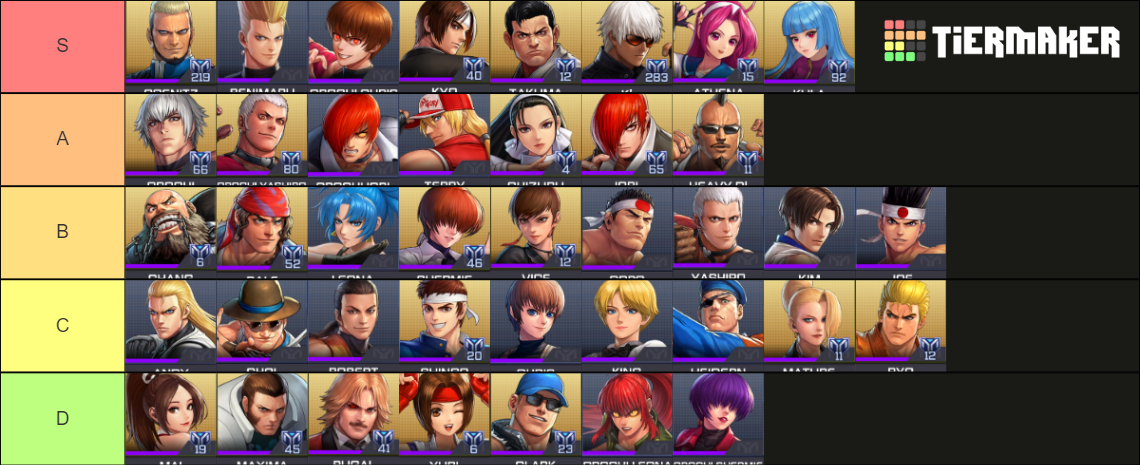 KOFA is a well-known 2D fighting game that has been in existence for over two decades, featuring an extensive selection of characters from various teams, each with their own combat technique and exclusive moves. Based on the latest updates in season 5, I'd like to share my thoughts on the most exceptional and least impressive fighters in KOFA.
My top-tier, or S tier, fighters include Geonits, Benimaru, Orochi Cris, Kyo Takuma, K', Kula, and Athena. These are my preferred fighters due to their power and ease of use. Geonits is particularly agile and quick, with effortless combos. Benimaru has excellent range and speed, and his lightning attacks can stun adversaries. Orochi Cris is a dominant grappler, capable of inflicting significant damage with his throws and supers. Kyo Takuma is a versatile fighter who can adapt to any circumstance with his fireballs and kicks. K' is an adaptable fighter who can utilize his flames to control the area and pressure the opponent. Kula is an adorable but lethal fighter who can freeze opponents with her ice abilities and combine them with her skating moves. Athena is a psychic fighter who can heal herself and attack from a distance using telekinesis.
On the other hand, my bottom-tier, or D tier, fighters are May, Maxima, Rugal, Yuri, Clark, Orochi Leona, and Orochi Sherme. I seldom use these fighters because they are weak and challenging to operate. May is a pirate girl who employs a large anchor as a weapon, but she is slow and predictable. Maxima is a cyborg who relies on armor and rockets, but he is also slow and vulnerable to attacks. Yuri is a karate girl with some quick moves, but she lacks range and damage output. Clark is a soldier who excels at grappling, but he has difficulty approaching the opponent, and his throws are easy to evade.
In conclusion, KOFA is an enjoyable and challenging game that offers a wide range of characters with varying skills and abilities. However, not all fighters are created equal, and some are superior to others depending on their attributes and strengths. This is solely my personal opinion based on my experience playing KOFA. However, you may have your own preferences and playing style, and you should focus on upgrading your preferred fighters to increase your rank and win more matches. Additionally, the higher your fighter's mastery level, the stronger and more effective their attacks and defense become.

- ronie#3965