Is Kingdom Story Heroes War different to Kingdom Story: Brave Region?
OVERVIEW
The gameplay in Kingdom Story is similar to the current Kingdom Story Brave Region. It is a free-to-play RPG with web3 elements. Inspired by the hit - "Kingdom Story", this game brings you to the Three Kingdoms era, centered around the storyline of Romance of the Three Kingdoms. It is an auto-battler combat game combining RPG and base building elements.
Kingdom Story offers a fun and engaging RPG experience through its narrative. And, as you progress through the Kingdom Story game, you'll earn in-game currency such as Gold, Gold ingots, and Diamonds. Enhance your officers through leveling up, upgrade, rank up, ascending and awakening.
With web3 governance implemented into Kingdom Story, Dia - the core in-game item can be used to:
Gain and grow officers

Build structures with Dia
The web3 ecosystem focus on gamers while maintaining the RPG original fun of character collection-type. In Kingdom Story, you can collect over 300 commanders and mint them as NFTs, ensuring ownership and enabling trading in the kingdom story marketplace.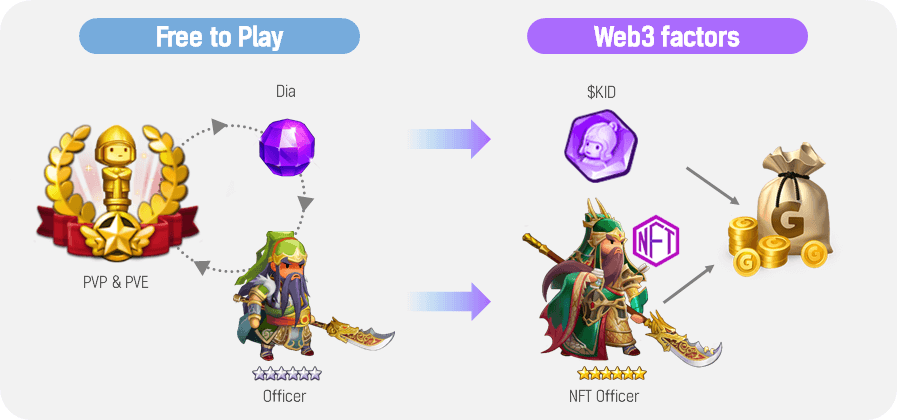 WHAT IS THE GAMEPLAY LIKE IN KINGDOM STORY?
In Kingdom Story, you can develop officers from four countries - Wei, Shu, Wu, and Han.
Explore various game modes in Kingdom Story:
Scenario: Go through a series of stages and earn rewards

Arena: Battle other players. It can be unlocked from monarch level 15 onwards

Domination: Territorial war mode that takes over 60 castles

Boss Battle: A huge boss dungeon will be open each day in Kingdom Story. The boss match is available from monarch level 25, and 3 stars and higher officers can play

Crusade: Players go under the emperor's order to suppress the rebels